Water Filters | Reverse Osmosis | Distiller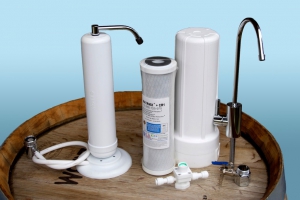 Bench top water filters
There are a variety of slim line bench top filters available. These filters provide a space saving option and are an extremely portable alternative to the standard style of bench top filters.
The more traditional style of bench top filter allows for a variety of standard sized filters to fit inside the housing. The "default" version comes with the flow diverter valve and a 0.5 micron carbon block filter providing >99.99% cyst reduction.
Under sink water filters
The more traditional under sink unit has the advantage of being able to take the enormous range of internationally sized filter cartridges available today. Whether you are after a standard "taste and odour" filter or a specialty filter, this unit can accommodate the lot.
Chlorine, taste and odour will be removed by all filters for varying volumes of water with additional optional features including heavy metal reduction, limescale inhibitor, fluoride,
Giadia
&
Cryptosporidium
removal...
Filters are not intended for microbiologically unsafe water.
Reverse Osmosis and Distillers are also available...